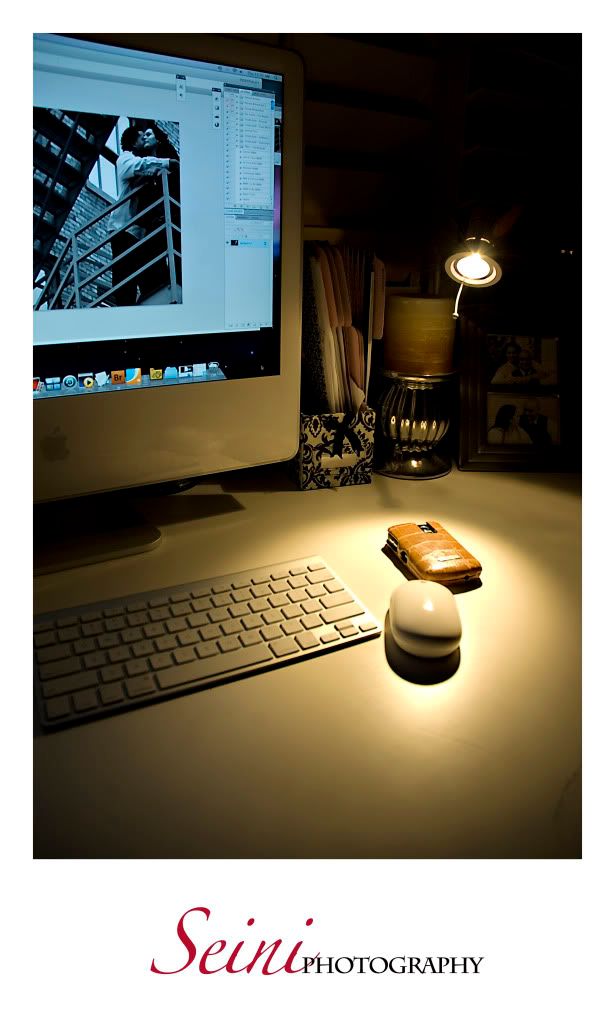 Lately, this picture above tells you what my life has consisted of.......I have been swept off my feet with photo shoots left and right and must thank all my great, beautiful, bestest clients for taking a chance on me. Its like a dream come true to be able to do something I totally enjoy and love! Thank goodness Monalisa is coming down from Cali. later today for the summer to learn and shoot with me as she prepares for her photography major!..... Each shoot is like a rush of energy each time as my creative juices are pumped to create my style and vision with my clients. Then I received an email today from Nativa and was reminded of how important it is to share my experiences as I move through this journey. Earlier this year, I had finally decided to purchase my first professional NIKON, yes...NIKON rocks! Don't hate Canon users:), nah but my life, schedule, and work have changed now that my lil' photography biz is up and moving. My dreams are coming to fruition one step at a time, and although I am constantly learning, this world of photography has no limits. I can't say that I've always wanted to be a photographer, but once my NIKON met my fingers they have been pretty inseperable as I have tried to learn just how beautiful pictures can become with vision, anticipation, and a desire to exceed expectations.
I thought I'd be able to dedicate a specific day each week to share some the great things that I've learned, and obviously that didn't work as my tips and tricks Thursdays lasted for a quick minute. However, I was reminded today with a thoughtful email from Nativa just how important my sharing can be for those who are starting out. It wasn't too long ago when I started out, spending many long days and hours just researching books, blogs, websites, cameras, photographers, etc.....just to get a feel for what to expect with photography. That knowledge then lead to attending my first workshop here in SLC with Bellaora Studios:
Then attending WPPI where I trained with some great acclaimed photographers ( spent two days with the Marings who shot Donald Trumps Wedding. Also trained with Dane Sanders who shot Tom Cruises wedding, met J* and David Jay who are some of the best wedding photographers and got to hang out with them in their suite, plus meet hundreds of other photographers who some have become great friends. WPPI really helped me to move forward with a plan of action and once I got home I started shooting.
4 months later, the news of Seini Photography has spread pretty fast, and I have been able to experience so much success. Alot of it has to do with my clients though. Working with others is alot of fun but when doing photography communication is so key. It is what makes all the difference in our work.
I remember the excitement of my first shoot with two lil' boys, Noah and Justus. I was pumped and felt ready to take on the challenge of putting everything I had learned into this shoot. So Justus arrived, and I remember being so excited and yet so nervous. Then, as the shoot started I went stiff, I didn't know exactly what to say, and better yet I was communicating with a 2 year old which can be an experience all in itself. I remember asking Wendy, Justus' mom what she wanted to do? and she looked at me and said, "your the photographer".
(This is Justus! He was able to switch into 4 different outfits and has set the record so far! Such a cutie..gets his good looks from his mom of course:)
(Heres Noah, who had just turned 1yrs old, and was such a treat to shoot!)
(The theme for Noah's 1st bday was "Noahs Ark" and thank goodness I just happened to have a toy boat in my lil' studio area.)
I remember feeling awkward and realized that this shoot is entirely up to me. I had to make sure that both moms don't look at me and think, "does she know what she is doing?"....and began composing, using my angles, and making sure to get the shots I had planned for. Its easy to prep, but directing clients, especially kids can be hard. Adults are alot easier, but this is all a part of the learning curve. With each photo sessions that have followed, I have realized how important it is to direct my clients because we all know that being in front of camera is not the most comfortable feeling in the world. As a photographer we need to be able to read the body language of our clients and ensure that they don't have an awkward experience. Can you imagine being with a photographer that doesn't say much? I may be a lil' more on the chatty side naturally, but I try really hard to ensure that my clients know and understand why they are posing, and provide directions that will help them feel comfortable. I'm all about my clients being themselves and being there for them as a "pro" to deliver and exceed their expectations.
Throughout this time, I feel that I have improved in this department of communication....don't get me wrong, there is so much more to photography then communication, but I believe this aspect has made me a better photographer. My interaction with my clients is so key to ensuring that they have a great experience with me. For anyone just starting photography......here are a few points to keep in mind. As you get started with your photography, just get out there and start shooting away....when shooting people make sure that your subjects feel comfortable with you, make sure they trust you...which can be hard because often times as a photographer you are shooting with people you don't know personally. This is where the personality of the photographer shines through. You really have to be a people person if you plan to shoot weddings, familiies, maternity, children, etc.
Take an interest in other people: You want to make sure to prepare for each shoot by making time to make contact with your clients. Find out who they are as a person (this can be done thru several mediums such as phone, myspace, FB, making time to meet up, bebo, etc), what they like? how they feel about things such as their relationship if you are taking engagments for example, or a new mother and her feelings for baring her first child. Probe your clients and get a good feel for who they are, where they are in their lives, and any other key information that will help you design a shoot personal for them. Most people lke to talk about themselves right???, so imagine after building this relationship with your client just how important and valued they will feel. The list can go on and on, but knowing who you are working with as an individual will definitely break the ice so that upon the shoot, it will feel like you are with one of your friends and lessen the pressure or nervousness for both the photographer and client.
TALK>>>>>After finding out so much about your clients, use this information to your advantage. As you are walking to locations together, you can take a break from shooting and continue the conversation you initially started when you first met. Take time to find out more and make your shoot all about your clients. You will find that this communication will ease your clients, and allow them to relax and feel comfortable with you and the shoot. And then you can catch those candid shots, or your clients true self. If things feel awkward, then it will show in the picture. When I shoot, I'm still talking....sometimes its easy to get distracted with the technical aspects of your camera which may cause a huge gap of silence which can make your clients feel uncomforable. Share the technical side of things openly with your clients so they know what you are doing and can have an understanding for your skillz.
Another pointer, is to always remain positive! If your client thinks the shoot is going really well, they will have confidence and this will show in their pictures. As a photographer, we need to be constantly building confidence about the session. Its critical to throw compliments at your clients when shooting...." you look great", "wonderfu pose", "we are almost there", "perfect", "I cant wait for you to see this", "rock it out",......whatever expressions to help your clients have a great session.
"You look awesome!" "Oh, I love this image!" "Wait until you see this!" "You guys are doing great!" "You are so fun to work with!" "This is going so well!" "I can't wait to look at all these images!"
If you nail this aspect in your shoot, then your clients will believe that things are going really well due to your encouragement ====>which means your clients will be more confident with you and themselves. This technique helps clients to remain happier longer,,...and the point is you want your clients to be as excited as you are.
Lastly, keep your clients involved! I love to show my images to my clients after taking their pixs...can u imagine spending an hour with someone taking pictures and not seeing at least one picture....I usually try to find a few that I like and make sure to show them. You know we are all suckers for instant gratification, and clients love to see instant results. This is all a part of the confidence building for both the client and photographer!
....man, I didn't realize I have written a novel! Nativa, this one was for you! thanks for reminding me to share some of the great things that have contributed to my photography. I hope this helps not only Nativa, but any new budding photographer. And just like Nativa, if you are interested in shadowing or training, I would love to help out in anyway. And because a post is better with a pix....here is a sneak peak of what I will be posting soon:) And if there are grammatical errors...if you have gotten this far, you know what I mean:) Thanks again for all the support, love, and continuous learning! Thank you to my clients who have managed to book me into February of next year.....I have alot lined up! I have 3 shoots lined up this week, one every day next week until I head out to California for a wedding, then returning to more portraits through July.....another wedding, a shoot in Florida the end of July, New York and Hawaii shoots in August, Vegas in September, Texas in October, Australia in November, Kansas in December....and thats just to name a few. So I will be posting sessions for these destinations. Thanks again for your interest in my work and for keeping me on my toes!